Amazon is the largest selling website in the world, and over the past few years the group has begun to dominate other services such as producing phone (Amazon Fire Phone), Television (Amazon Fire TV), book reading and video streaming service (Amazon Prime), website hosting, and so on. And now the company announces the launch of the Amazon Ad Network, an ad network similar to the Display Network of Google Adsense. However, this program is still in the testing phase and currently available only to those who join the Amazon affiliate system – Amazon Associates. Only some people in this system are invited to test this new ad network.
Amazon Ad Network has just been announced. Source: amazon
This Amazon Ad Network program is introduced by Amazon as a tool to help Amazon's programmers earn more from advertising banner ads. While it is still very early to say whether Amazon's Ad Network program can become a competitor of Google Adsense or not, let's also analyze the following factors:
1. Amazon Associates is the largest affiliate program in the world with millions of members.
Having such a large number of members will be a leap for the program to rapidly grow and attract the attention of large advertisers. Although this number of millions of members and websites may not equal the number in the Google Adsense system, but with the reputation of Amazon and if this system works really well and brings benefits to who purchases the ad, the chances are that there will be a lot of people involved in this system that help increase such number.
2. Cost Per Impression (CPM) vs. Cost Per Click (CPC)
One major difference between the Amazon Ad Network and the Google Display Network – Adsense, is their paying method. While Google Adsense has the CPC with which advertisers will receive commissions when someone clicks on the ad banner (which varies according to the advertiser's bid and this process is fully automated), Amazon's Ad Network runs under the CPM (cost per impression) method, which means that only by having someone opening the site then advertiser will receive a commission. Currently, the Amazon Ad Network CPM amount is about $ 2 per 1,000 views. This CPM mechanism is likely to be a good place for website people to join because of its easier ability to gain profit comparing to CPC. In addition, this CPM mechanism is also more attractive to sites with lpw traffic because the site owner can now have a better earnings automatically.
3. Advertising options to increase the diversity
There is not better time for the Amazon AD Network to appear than right now because this is the time that advertisers are looking for more new advertising channels to avoid excessive dependence on great advertising channels as Google Adwords or Facebook Ads. Especially when the organic reach of the Facebook fan page is down, and Google's natural traffic is dropping.
More ad channels, more choices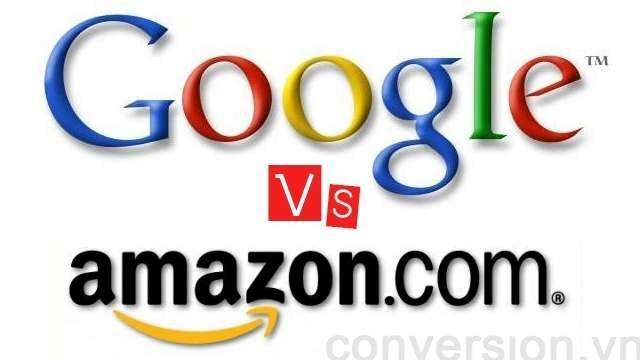 In the battle of these two giants, advertisers and publishers will all benefit
The presence of Amazon Ad Network will certainly be a necessary counter in the advertising market when Google is occupying its highest unique position. This is a good thing because if a new competitive opponent will make Google pay more attention to improve its service. Meanwhile, advertisers have another effective channel to spend money, and most importantly, diversify their advertising channels, avoiding over-reliance on a particular channel. It will be interesting to see how the ad market will change with the arrival of the Amazon Ad Network.