Nowadays, when it comes to advertising on digital channels, people usually think of popular advertising methods like paid search, Facebook ads, display ads, email, etc. However, with the development of technology and new trends, many new advertising methods also came up to cater to different advertising needs. Some advertising methods outlined in the article are rather new, some are not really fresh and some are specialized in event supporting, some of them support sales. But what they have in common is not being really popular in Vietnam market and the understanding of marketers about them is a bit little.
The purpose of the article is to introduce more about these advertising methods rather than to compare them in terms of effectiveness or cost with the popular advertising channels because each serves a different purpose. Let's take a look at these ad formats:
Augmented Reality
Augmented reality (AR) is defined as the addition of an image layer, virtual content onto the surface of real objects, and the ability to interact with such virtual content through triggers. a movement or a physical button) is programmed.
To understand more about Augmented Reality, you can watch the following clip of Microsoft introducing about Hololens – AR glasses which they are developing:
Hololens glasses allow users to interact in real time
The use of AR in advertising appeared from 2011 to 2012, a highlight was the advertising event serie of National Geographic at many Malls:
Augmented Reality by National Geographic at a shopping center in Hungary
See more AR clips taken by National Geographic here
Pepsi also has an impressive AR advertising program in 2014 for Pepsi Max:
Pepsi advertises Augmented Reality technology at bus stops
In Vietnam there have been a number of case studies by some companies such as AX and BMW:
Augmented Reality is performed by AXA Vietnam at an event

Augmented reality is applied at the Vietnam Motor Show 2013
* Vietnam Motor Show 2014, BMW also made AR but unfortunately there was no recorded clip.
ARs are often used in events as a buzz making activity to attract attention in the event, and increasing brand awareness. AR ads now cost rather high because of the cost of hiring devices and programming animations, effects. Cost depends largely on the complexity of the concept, the more complex, the higher the cost.
In addition, AR can be applied on print, magazine, poster, scan to create interactive publications. Currently in Vietnam a few magazines have begun to try applying AR scan technology such as Kilala. Similar to QR code, to scan AR users will have to download an application and use the scan feature to view the content being attached in the publication.
Augmented reality is used in creating an interactive calendar introducing ASEAN countries
** Off-topic: It is important to distinguish between Augmented Reality and Virtual Reality as these are two different concepts that many people are still confused. Augmented reality is based on the existing reality with an overlay over it. Virtual Reality is a user experience with a virtual world completely independent of the reality but with a feeling of reality. Potential of advertising on Virtual Reality? Check out the article Wearable Devices.
Interactive Floor
This technology applies the ability to track the interaction and gestures of the user and then the projectors will play the effects associated with these activities on the images being projected on a certain surface ( floor, wall) to create a sense of the user interacting with the image.

Interactive Floor – flowers automatically detached on the road when someone steps on it

Interactive Floor – can also be used to create interesting interactive games
Like AR, Interactive Floor, which is used primarily in programs as a buzz event to draw people's attention, creates a brand impression that can be incorporated into a larger interactive program. The cost of Interactive Floor is also not small, as the cost of equipment, installation and programming to identify the movement, effects and it often depends on the concept that the brand wants to do.
Beacon
Beacon is a technology created to help sellers / advertisers deliver information to customers at the right time, place, and context. Working through mobile applications and Bluetooth waves, the Beacon can help customers see detailed product information or promotions that the product has when they are interested in that product.

Beacon gives the opportunity to approach customers based on the context
Beacon can be applied not only to life support but also to sales support, customer support, and contextual advertising, depending on user needs and preferences. Currently Vietnam has this technology but it has not been seen being used by any brand in advertising or sales.
Broadcast Cell + Flash SMS
This form of advertising through SMS is not new, but requires advertisers to have a database, list of phone numbers to send and sometimes these lists are from buying and ineffective. Broadcast cell is a new method provided by telecommunications companies such as Viettel that allows broadcasting content to users in a desirable area exactly to the county level (even the ward) and has extra options of choosing an additional condition such as users' monthly spend on phone, gender. Then there is no need to have a list of customers, just define the area, then all those who are in that area and meet additional conditions will receive the message.
Broadcasting advertisements to users in one area, accurately to the district level
Eventually, with Flash SMS, advertisers can create multiple scripts to interact with customers right on the phone.
After clicking accept on Flash SMS, the user can receive a follow up SMS, an MMS (video, picture) or USSD code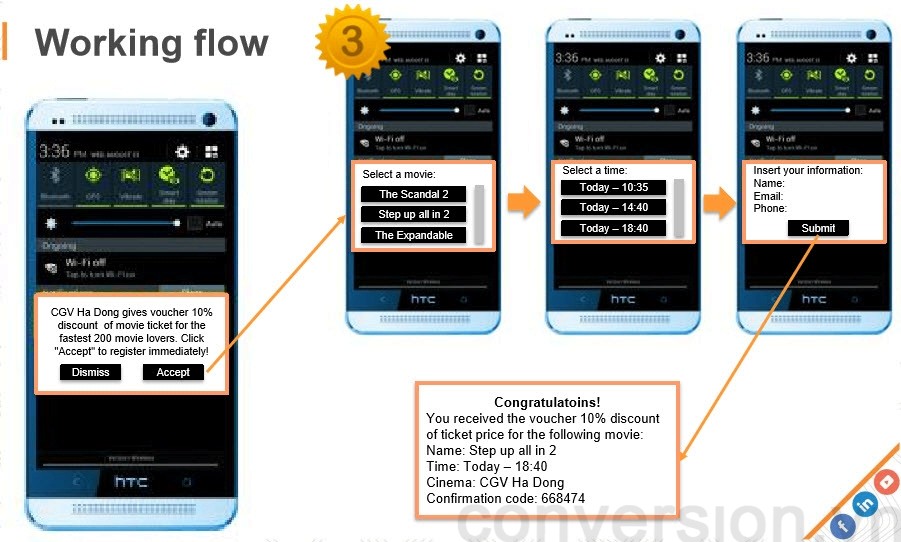 After clicking accept on FlashSMS, the user can continue with another set of activitíe. In this case, they choose to book tickets.
Similar to SMS, Flash SMS can be used as a push advertising method, but it has the advantage of being able to target more accurately by location and at the same time capable of  interacting instantly. Flash SMS is also a good way to create buzz to support events, for example using flash SMS for people in the area around the event and invite them to attend.
See also: Advertising on OTT Applications
Surf Marketing
Surf marketing is based on the fact that about 10% of the search traffic on your network is wrong, such as typing the wrong domain name, clicking on the wrong link or not working (called bad request ). In the case of bad requests, users will often see an error screen and must check to see what is wrong with typing and re-execute that request. Surf marketing will replace the error page with a landing page that contains advertisements from sponsors or related services. Based on the keyword analysis, the language the customer types in which the Surf Marketing provider will display the most relevant ads.
Surf marketing is a new channel for advertisers to display their banner to the user.
Surf marketing is about delivering ads that can be useful to users as they do the wrong search, and at the same time provides an additional channel to help advertisers reach users. However, the effectiveness of this ad channel will depend a lot on the ability to analyze keywords and provide the most relevant ads, otherwise users will not be happy to click on the ads displayed.
Readers who need contact information about suppliers providing services mentioned in the article for further reference can contact the author. If you know any other advertising method available in the market but not mentioned in the article, you can be add in the comment section below.