If you are a beginner who starts to learn about Marketing, you will probably feel overwhelmed with a lot of knowledge and information to acquire. However, it is still important to know the foundations, the basics and the right way to do it. More specifically, if you are the owner of a startup and do not know anything about marketing before, learning may be a little harder. Your time is limited because of busy work to make sure your startup company is running, and spending time with a marketing course can be very difficult to arrange without knowing the efficiency.
Too busy, having no time to learn marketing?
In that sense, Google has launched the Primer, an Android and iOS app that teaches beginners or anyone who needs to learn the basics and fundamentals of marketing. This application allows users to learn about marketing expertises right on the phone at any time and anywhere in the most convenient way. Currently, the application has three areas of training: Content Marketing, PR & Media and Search Marketing, and other modules will be gradually added to the application later.
Content Marketing: Talks about why Content is important, how to think and find ideas for the content of the website, test the content types and measure its effectiveness.
PR & Media: Teaches you how to build a story and gain attention for your brand, which channels to spread that story, how to bring it to news channels and build brand identity.
Search Marketing: Outlines why search engine advertising is important, what you need to know when doing search marketing, basic keyword research, and effective measure that advertising campaign.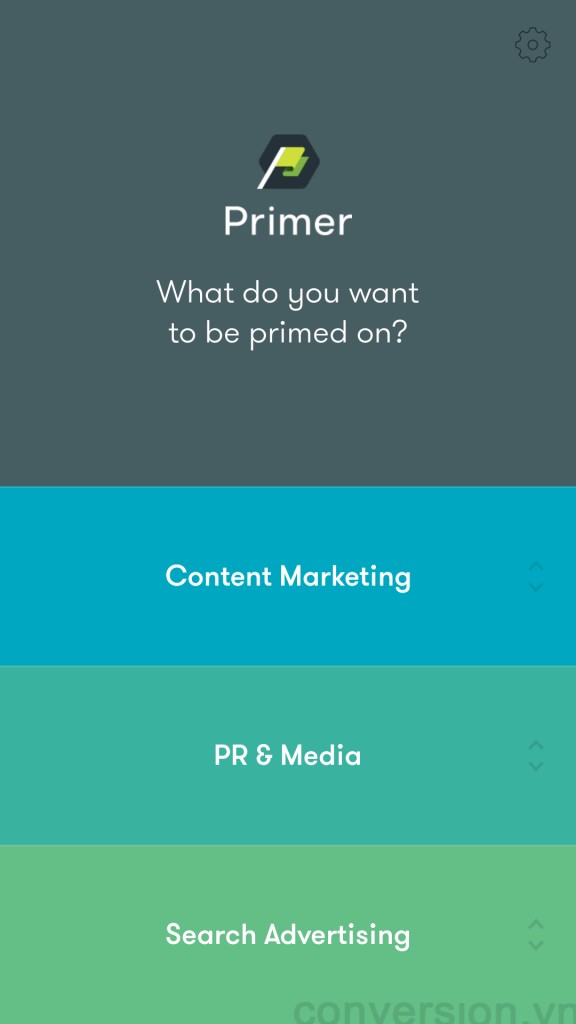 There are three areas of training: Content Marketing, PR & Media and Search Marketing
Each section is divided into several smaller marketing lessons and it usually takes about 5 minutes to learn one lesson which is quite flexible so you can learn quickly at any convenient time. While waiting for the bus or while relaxing for a few minutes between working hours, you can also take it out to read as a kind of learning and relax.
Lessons start with simple concepts and go higher.
The marketing lessons in this are quite intuitive and dynamic with clear slides and images to illustrate the lecture content. The content is simplified and clearly explained with everyday examples so that even completely new beginner who do not know anything about marketing can still understand.
Clear illustrations and examples help make learning easier and more enjoyable.
Also, each marketing lesson will have a quiz section to help you review the knowledge you've just read and understand the problem. After finishing the test, you will know how well you know the problem. And finally, you can review the previous lessons at any time.
Study and review what you have learned with interesting quizzes.
Self-assessing your level of understanding the content of the lesson through scores.
Finally, after completing the lessons, you can send your email address and get more information with tips and tutorials and other interactive information that will help you improve your marketing performance. This is a wise way of gathering information about potential advertisers of Google
Subcribe with email for helpful information and instructions from Google
Follow up email from Google after you fill out the email
In short, this is a pretty useful app from Google for those looking to learn about marketing in general. If you are managing and want the employees and people who work with you have a basic understanding of marketing, besides the training sessions, the requirement that they download and try the marketing application Primer is also a good solution. Even people who have experience and knowledge of marketing can find in this application the insights and useful knowledge.
You can download Primer – marketing application here: