Facebook has recently announced that Audience Optimization is available for people who manage fanpages. This tool allows the fanpage's admin to select and target the audience (among those who like their fanpage) so that their content is reachable to certain groups of audience. How does this feature work?
Now on the fanpage posts, you can see the News Feed Targeting icon.

Newsfeed targeting on posts
When clicked, a frame will pop up with the filters for you to choose. The News Feed Targeting lets you target followers of your fanpage. If someone is in this group, they will more likely see what you post.
Those who have experience in setting up targeting ads will find these options quite familiar.
When no filter is available, the estimated reach will be high
Prior to the appearance of the filter, the estimated reach would be quite high, about 77% of the total number of followers on the page. However, after putting in some filters, the estimated reach will vary depending on how detailed you set the filter.
The options you are allowed to set include Interests, Age, Gender, Locations, Languages, Relationship Status and Education Level (in More Demographics).
After changing the filter, the estimated reach will change
In addition to the News Feed Targeting we also have an Audience Restriction tab that will allow fanpage admins to limit who can see the content of the posts based on Age, Gender, Locations and Languages.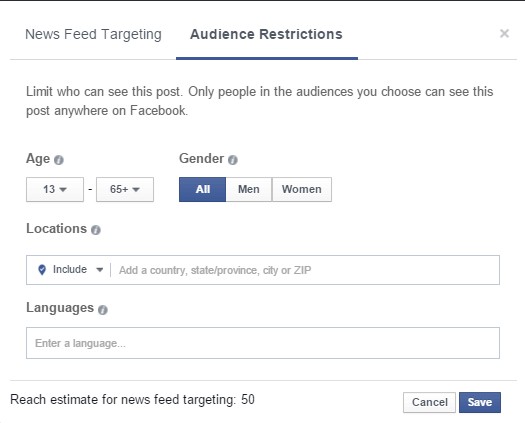 Limit who sees this post based on the demographic parameters
Once you finish setting up, the post will display the parameters you have for the News Feed Targeting. If there are more Audience Restrictions settings, the display side will choose Limit to Demographics instead of public.
The settings section of News Feed Targeting and Audience Restriction will show up on the post
What is the difference between News Feed Targeting and Audience Restriction?
=> News Feed Targeting will not limit who may see your posts, it's just a set up for Facebook to understand that your content may be more relevant to the targeted audience and Facebook will evaluate so that your aimed audience will be more likely to see the post.
=> The Audience Restrictions section is what will limit your posts to those who want to see your content.
In addition, for the posts which you apply the News Feed Targeting feature, you can go to Insights> Posts> click on the post. Now next to the Post Detail section will be a News Feed Audience section (formerly named Preferred Audience). This section will show you which Interests create more engagement, click, like and share.
Checking which Interest segment creates more engagement
The Audience Optimization feature is not just for Facebook's composing post section, but also for Graph API, Third-party tools and Instant Articles.
Have My Fanpage Had This Function?
Your fanpage by default gets this feature if it has more than 5,000 likes. If less, you will need to manually enable it by going to Settings> General> News Feed Audience and Visibility for Posts and check that box. Then click Save Changes.
You have to enable this feature manually if the fanpage has less than 5,000 likes
If you have not seen it in both the post and the settings then it is likely that Facebook is now rolling out, just wait a few days.
Facebook Turns Us Into Testers for Its Machine Learning Process
This feature is Facebook's first testing step to address the dilemma that this social network is facing which is how to bring the right content to the right audience. As you already know, Facebook's organic reach is decreasing, the reason can be explained in this article. The downfall here comes from the fact that our News Feed is getting more crowded with more types of information, not to mention junk and spam stuff.
Facebook itself cannot accurately determine the continuous change and variability of the content on the social network. Audience Optimization is a very clever move of Facebook to allow publishers to feel that they have the right to self-determine which type of follower their content is tailored to. And through that, Facebook can collect more data from publishers and better understand users and how they interact with those types of content. They will feed these collected data into the machine learning system of the News Feed algorithm and thereby continuously improve the analysis and processing capability of the system. Now, who teaches it how this system work will not be just Facebook anymore but it's us, publishers and Facebook users.
Machine learning is the process by which Facebook teaches computer programs to analyze the needs of users. Source: freepik
Yes, we are being used by Facebook to help them gather more information for the machine learning process. The contributing of articles to the right user is previously of Facebook, but now we are the ones doing this for them.
Why Audience Optimization is Important?
Moving to the important part, what benefit does the Audience Optimization have for us, publishers and fanpage managers? According to Facebook, some of the major brands involved in the beta process of Facebook Audience Optimization such as The New York Times, MTV, and Bleacher Report state that the tool offers significant "improvement" in the number of engagements, help better contributing suitable contents for each type of followers.
Source: linkedin
This Audience Optimization tool will greatly benefit the big fanpages with a large number of followers and the segments of the customers are very wide, not focused, such as entertaining fanpages. It is also useful for customers who have a variety of services, such as an English language center for posting an IELTS topic, to select target audiences who are more interested in IELTS instead of For all followers who are like fanpages that may have many people who do not have a need.
Audience Optimization is a step in Facebook to direct publishers that they should be less attentive to organic reach and should pay more attention to engagement. This is also an advisable tendency because actually reach (like impression) is a quite ambiguous indicator and we should aim for clearer indicators such as engagements that clearly show the interest of viewers with the content.
It is too early to say how Audience Optimization will improve the performance of engagement compared to before, but this is a really interesting feature that people should focus on testing to see its impact on the followers of your fanpage.
Facebook has a very detailed and clear-cut practice page on how to effectively target with Audience Optimization. Take a look to find the best optimization guide for you. The author will share more experiments on this optimization in more detail after further testing.
If you have any comments about this issue please leave it below.