Today I want to use this article to talk about a spiritual child that I have been caring for 2 years: the Underground Agency Network (UAN) group. This is the time to look back at the development path and what can be done next.
What is UAN?
The UAN is a community about digital marketing so far has about 4,600 members on the Facebook group and 600 members on the Skype group. This is rather small compared to other groups' member number. And actually, the UAN has only been in existence for two years, and it was not originally intended to be a large community. The UAN started in 2014 with just a few original members mainly for meeting, hangout, talking and eating together, which led us to making a facebook group to chat chit.
Then we started sharing about small topics. At first the sharing was just in a small cafe with a projector. The subjects was very simple, everyone shared what they know. Gradually the group started to grow with friends adding friends to the group and the sharing sessions also grew bigger.
With a scale from 20, 30, 50, 70, it then expanded to over a hundred members. The programs also accrodingly became more professional when the organizers invested in the registration process, check-in, live streaming on Youtube or Facebook.

Since then the UAN had also held a fairly large number of events with experienced speakers who had deep expertise and knowledge, and received a lot of support from the participants. The UAN program was not only held in Ho Chi Minh City but also advanced to Hanoi.
A speciality of the UAN is that it's not just about sharing knowledge, but it's also about interesting connecting and networking activities that allow members to associate with each other. These activities usually take place after events such as eating out together and thereby improving the sharing and connecting. In short, joining the UAN, we not only share, learn, connect but also have fun doing it.
The core values ​​of the UAN
The UAN honors three core values:
Understand It Right
Do It Right
Connecting and Sharing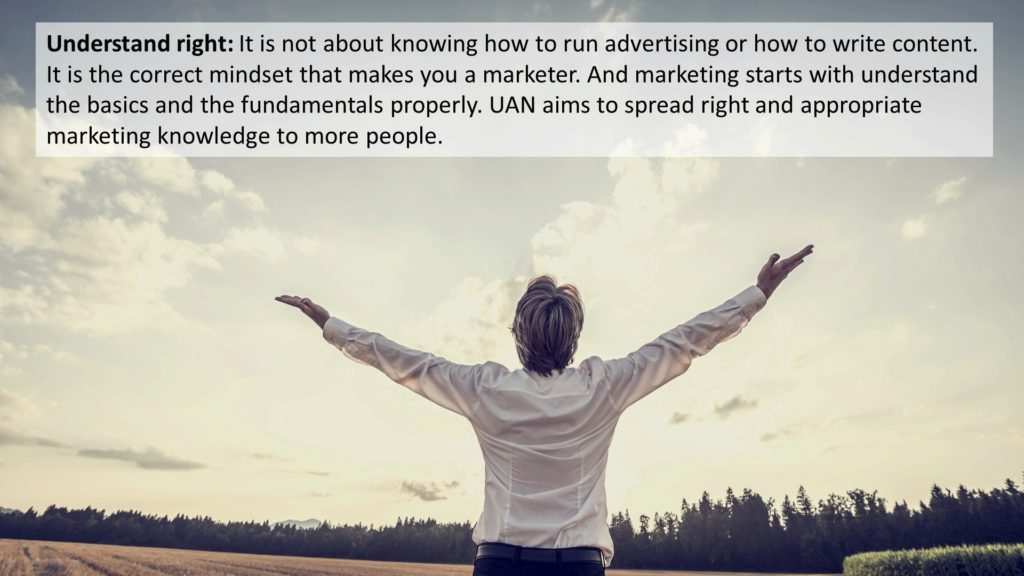 1. Understand It Right: marketing is not just about knowing how to run ads, knowing how to organize events, or how to write content. Marketing is a mindset and a marketer must firstly understand the basics of it to have a solid foundation for learning and development. The UAN is a community that encourages thinking and understanding marketing the right way.
2. Do It Right: Once you have a proper understanding of marketing then you can start doing the right thing. The Doing It Right here is to clearly distinguish the line between what should be done and what should not when advertising. The UAN promotes doing marketing appropriately and benefits both advertisers and users.
3. Connecting and Sharing: The core of a community is always connectivity and sharing. When knowledge is shared is when it is multiplied. So the UAN is aiming for this value and the group's activities are the same.
How will we do it?
The UAN has so far assembled a team of supporters, both in Ho Chi Minh City and Hanoi. These are the people who helped make the UAN events happen successfully. The UAN has so far featured following types of event:
Workshop: sharing knowledge event with the format of 1 – 3 presenters who give a presentation on each topic related to a large subject followed by a Q & A session, with a view to bring deep knowledge sharing for members.
Talkshow: sharing knowledge event with the format of two or three speakers (with the background may be the same or different) and with a moderator as they discuss a topic and give their own opinions, purposely for sharing knowledge in form of a discussion from various perspectives and dig into controversial issues related to the topic.
Networking: Events focused on networking, there will still be talkers sharing on a topic, but then most of the time is spent for members networking with each other while enjoying snacks and drinks. The program is conducive to bringing people in the industry closer and providing them the opportunity to familiarize, cooperate and support each other.
The UAN will launch the following format wit interesting and exciting content in the upcoming time:
Debate session: With two knowledgeable and experienced speakers who have conflicting or different views on a topic, both of them will debate each other to defend their opinion. There is no right or wrong as the argument is based only on evidence and logic to help audiences better understand the nature of the subject and see the problem from two extremes.
Game show: An interesting format where we divide players into two teams to compete competitively with quiz questions, marketing challenges and see how they can work out plans to solve each situation. A panel of judges will give their evaluations and marks for both teams. Winners will be honored and receive award from the organizers.
Training / Coaching: In-depth coaching and training sessions on a number of topics and stretching into a series. Participants must undergo some basic requirements to be able to participate in this training / coaching course. Only participants of the 1st session can participate in the second session. Those who complete the training coaching series will have to commit to supporting other training / coaching sessions for others.
In addition, the UAN will also be committed to the better organizing its current programs:
– When registering, there will be SMS / Email confirmation. On the event day, there will be SMS / Email to remind registerers to participate.
– The quality of the video and audio of the recap and livestreaming will also improve (with the support of BrandsVietnam).
–  All of the programs that have taken place can be easily viewed in a dedicated area containing contents of the UAN Group on the BrandsVietnam website.
Finally, the UAN will also launch some campaigns to increase connectivity for the community. What do you think if you can meet people in the same industry for a morning coffee, a lunch or a coffee after work to discuss work, knowledge, opportunities for cooperation or business experience?
All will be done through a web app system that we will build called the UAN Connect – where you can sign up, give the information and skills you have and let the system know what can you share and want to hear about and the time you can meet? The system will automatically find and match you with other UAN members who have the same goal and you two can easily meet. This is a desirable goal of UAN to serve one of the core values ​​of the community is the desire to connect and share.
Partners and sponsors for the programs
Therefore, with all these goals, directions and desires, UAN is currently looking for partners who would like to join us in building these goals. We need:
– Donors who are companies and service organization
– Partners to cooperate on Email / SMS service
– Web development partners to develop the UAN Connect and other community features
– The co-production partners on video production
… or if you think you can participate in our movement in any way, please contact me, Mr Tu via Facebook or phone number: 090 798 7060
If you want to be part of a dynamic team who are soon will be the motivation of the change in the market, join the UAN Organizers team and take part in our upcoming exciting campaigns. We always welcome new members.
Join us with the UAN to build a community that understands it right, does it right and is always connected and shared and through which we can make the marketing market better and stronger.
LET'S MAKE MARKETING FUN AGAIN!
You can download the UAN proposal here: http://bit.ly/uan-make-marketing-fun-again-v3